July 23, 2018
Back to School Fashion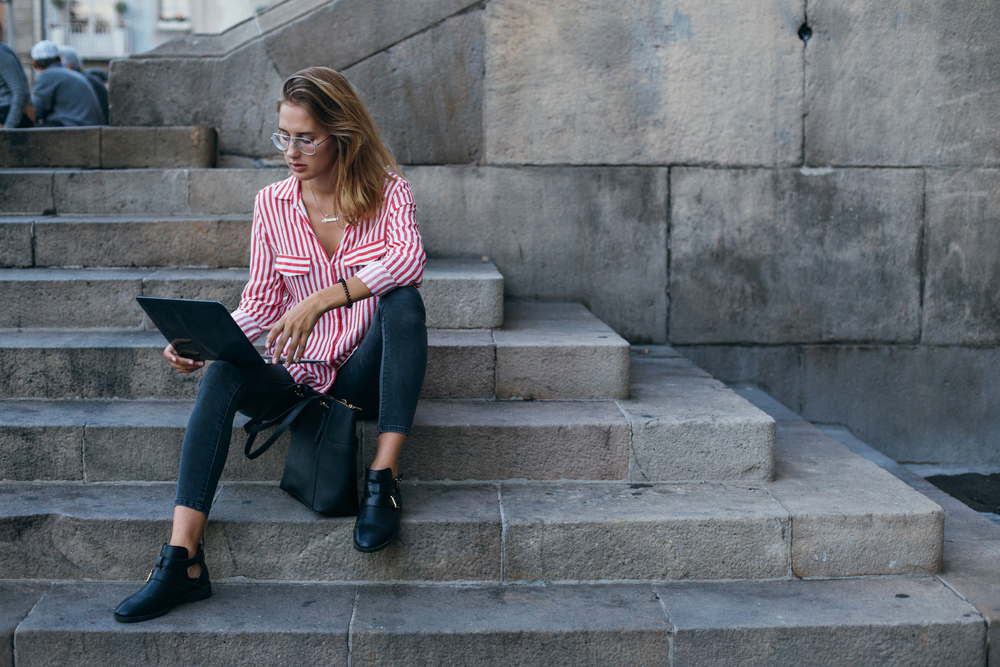 This blog is for all the mothers out there pulling their hair out over back to school shopping. Are you ready to help your kids dress to impress? As kids get older it can be harder and harder to find outfits that are affordable, stylish, and that your kids love. This blog has a few ideas that can help you find something that works for both your kids and your wallet!
Black With a Pop of Color
Black is truly the most fashionable color! Black always seems to be in style and it goes with many other looks and colors. In the example below, you can see the model is wearing matching black distressed jeans and a shirt, and she brings the whole look to life with a cute pastel pink jacket. She could change out any jacket, accessory, or pair of sneakers to change the pop of color she wears, giving her look a lot of versatility!
Layers for Days
Here we see the distressed jeans make another return, this time with some fresh white kicks and a green jacket over a white shirt. Being smart with layers can keep options open. Nearly any jacket or shirt can be swapped out with this outfit while keeping the style the same. The jeans are the most important part of keeping the look together and down to earth.
Skirts & Blouses
Much like a good pair of jeans, a few smart, stylish skirts can provide a lot of variety when choosing an outfit for each day at school. Pleated skirts are making a special comeback, so don't be afraid of a few creases! Combine those skirts with your favorite blouse and you have the perfect semi-casual look for school or anything else! Catching on to the pattern here? Pick clothing items with a lot of versatility!
Smart Makeup For Smart Students
What kind of back to school fashion blog would this be if we didn't talk about how to manage makeup for rushed mornings and long days? More than anything else, keep it simple. Doing lips, lashes, and brows only takes a few minutes and can look fantastic. With a few more minutes your kids can do some blush or eyeshadow, but who are we kidding? If it's teenage kids we're talking about, they're going to be in bed until the last minute! Making sure they have a few minutes to frame the face is all they need to look fantastic for a long day at school.
Don't Deny The Denim
Denim has a way of staying in style for a long time! The denim jacket is the perfect staple for any young lady going back to school because they are versatile, warm, and they look amazing! They can be combined with any kind of print, color, or pattern and still look great. Make sure this one makes it into the shopping cart!
Kids Are Taken Care of, Now What?
Alright mom, you've got shopping for your kids handled, but what about for yourself? Have you considered going back to school when your kids do? Beauty school can be the perfect place for you to build yourself and your career options while your kids are off at school! We have scheduling options that can meet your needs for our cosmetology, esthetics, barbering, and nail technician programs. We also have six different campuses so you can choose the one most convenient for you!
Set the example for your kids and show them what it means to be an outstanding student. Contact us to learn about one of our programs today!